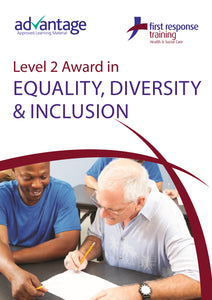 This distance learning manual provides essential information about equality and diversity and how it applies in a health and social care setting. This manual contributes to the underpinning knowledge for the Care Certificate, Standard 4.
By the end of this course, you will be able to:
Define equality, diversity, inclusion and discrimination
Explain how the law protects people from discrimination
Define prejudice and explain how it can impact on individuals
Identify where discrimination can be found in the care field
Know how to promote diversity and reduce discrimination in the workplace
Want your distance learning books to be custom branded? Just email us a copy of your logo and we will create a cover in your own brand colours.
Please allow up to 20 working days for delivery on all orders of more than 5 books.