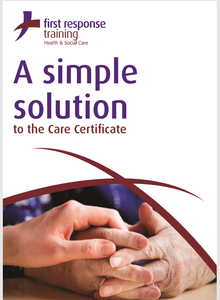 Every individual new to health and social care, as well as those changing jobs within it, is required to undertake an induction programme that meets the Care Certificate standards and allows them to provide evidence of completed objectives.
Our Simple Solution to the Care Certificate provides underpinning theory-based knowledge for the below 14/15 standards. The last standard to be completed is Basic Life Support, this will need to be completed through a face to face course or via an online platform. 
Understand your role
Your personal development
Duty  of care
Equality and diversity
Work in a person centred way
Communication
Privacy and dignity
Fluids and nutrition
Awareness of mental health, dementia and learning disability
Safeguarding adults
Safeguarding children

Health and safety
Handling information
Infection prevention and control
The package comes with a workbook and knowledge book, upon completion by the delegate this will need to be assessed and marked in house by a designated assessor.