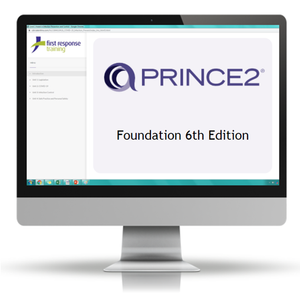 Seat time: 21 hours
About the course:
PRINCE2® provides best practice guidance that gives individuals and organizations the essentials of running a project. PRINCE2 is easy to learn and a flexible method that can adapt to all types of project .Because PRINCE2® is generic and based on proven principles, organizations adopting the method can substantially improve their organizational capability and maturity across various areas such as business change, construction, IT, mergers and acquisitions, research and product development. The best practice is supported by the PRINCE2® certification scheme which provides a two tier Foundation and Practitioner level qualification.
PRINCE2® Passport is an accredited eLearning package for PRINCE2® Project Management. It covers the syllabus and competency required for both Foundation as well as Practitioner level study and qualification. This course however covers the Foundation Level. The self-study products aim to provide you with a straightforward route to becoming a fully certificated Registered Practitioner in your own time and at your own pace. We offer options for Introduction, Foundation and Practitioner levels of study and qualification.
Course objectives:
To give delegates a practical understanding of Agile Project Management which is based on the internationally recognised framework of DSDM Atern. This will enable delegates to become immediately productive as a project manager in an agile project environment. To highlight the difference between simple lightweight agile approaches which typically operate at the solution delivery (or 'work package') level and the greater holistic view of how multiple work streams are co-ordinated with the appropriate level of governance and control. The course also prepares delegates for the Foundation and Practitioner exams.
Designed for:
Everyone needing a controlled approach to managing projects. Suitable for project managers, team managers, project support and assurance staff, and managers from any discipline. It is particularly aimed at people who are responsible for managing projects.
Benefits:
Provides flexibility for those wishing to study at a time, pace and place convenient to them

A flexible choice of different self-study options, including a blended-learning package combining self-study with a classroom based revision day
A cost-effective solution for both individuals and organisations
People using PRINCE2® Passport achieve a higher score in the Foundation exam
PRINCE2® Passport is achieving higher pass rates in the Practitioner exam compared to classroom training
Online learning gives you the freedom to access from any location
Content:
12 modules with associated interactive and video presented lessons

Notes to support each lesson
Module level exam simulation directly aligned to the PRINCE2® syllabus
Online support, forums, chat and progress reports
PRINCE2® Foundation exam simulations
Interactive exercises to consolidate the learning
Extensive Exam Approaches module to support the "Objective Testing" Practitioner exam
Learning modules:
1) Getting Started - What is a project? Projects vs Programmes; What is Project Management? Why PRINCE2®? Reasons why Projects Fail; Addressing Project Failure.
2) Introduction to PRINCE2® - PRINCE2 Structure; The 7 Principles, Themes and Processes; Processes and Themes Integration; Process Model; Tailoring PRINCE2®.
3) Processes (SU and IP) - Starting Up a Project (SU) Activities and Management Products including the Daily Log, Lessons Log, Project Brief, Project Product Description and Outline Business Case. Initiating a Project (IP) Activities and Management Products including the Management Strategies, Business Case, Product Descriptions, Risk, Issue and Quality Registers and the PID.
4) Processes (CS and MP) - Controlling a Stage (CS) Activities and Management Products including the Issue Report, Checkpoint Report, Plans, Product Descriptions, Configuration Item Record, Product Status Account, Lessons Log, Highlight Report and Work Packages. Managing Product Delivery (MP) Activities and Management Products including the Work Package, Checkpoint Reports, Quality Register and Team Plan.
5) Processes (DP, SB and CP) - The objectives and context of the Directing a Project (DP) process; How the DP process supports the seven PRINCE2 principles; The responsibilities within the activities of the DP process; The activities within the DP process including End Stage Assessments and Exception Assessments. Managing a Stage Boundary (SB) Activities and Management Products including Stage Plan, End Stage Report, Exception Plan, Product Status Account, Lessons Report. Closing a Project (CP) Activities and Management Products including End Project Report, Lessons Report, Benefits Review Plan.
6) Organization Theme - Organisation Structure, Roles and Responsibilities for Project Board, Project Assurance, Change Authority, Project Manager, Team Manager, Project Support
7) Business Case Theme - Outputs, Outcomes and Benefits; Types of Business Case; Benefits Review Plan; Links with the processes. Tailoring.
8) Risk Theme - Risk Management Strategy; Risk Register, Appetite and Tolerances; Risk Responses; Risk Management; Risk Budget. Links with the processes. Tailoring.
9) Plans Theme - Project, Stage and Team Plans; Product Based Planning; Estimating; Scheduling; Links with the processes. Tailoring.
10) Quality Theme - Customer Quality Expectations and Acceptance Criteria, Quality Management Strategy; Quality Audit Trail; Project Assurance vs Quality Assurance; Quality Control, Links with the processes. Tailoring.
11) Change Theme - Issue and Change Control Procedure; Types of Issues; Change Budget; Change Authority; Configuration Management Strategy. Tailoring.
12) Progress Theme - Tolerances and Delegating Authority; Management Stages; Project Controls; Event-based and Time-based controls; Reviewing and Reporting Progress, Escalating Issues and Exceptions; Tailoring.
13) Examination Approaches - Hints and tips on exam approach; Style of questions; Full Foundation and Practitioner exam simulation with references to the PRINCE2 Manual and interactive adaptive reasoning feedback.
All modules include related Lessons, Interactive Tasks, Visualisation Mind Maps and Extensive Foundation and Practitioner Exam Simulations.
Exams/Qualification Info:
Please note that exams are not included with this training course and must be purchased separately.
Foundation: 1 hour, closed book, 75 multiple-choice questions.
Practitioner: 2½ hours, open book (PRINCE2® manual only), 8 scenario-based objective test questions.
Passing the exams will give you internationally recognised professional qualifications.