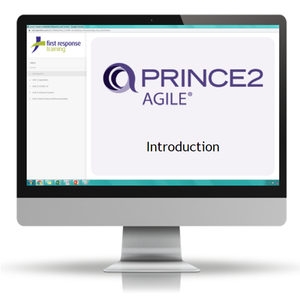 Seat time: 4 hours
About the course:
This accredited Course helps you get an appreciation of and become immediately productive as a member of a agile/project environment. This course provides you with an overview of the internationally recognised method PRINCE2 Agile® Project Management, a best practice for Agile Project Management.
PRINCE2 Agile® combines agile concepts with the world's most popular approach to project management. Developed in response to user demand, the PRINCE2® Agile certification teaches you to blend structure, governance and control with agile methods, techniques and approaches.
PRINCE2 Agile® is a forward-thinking certification blending the flexibility and responsiveness of agile with the defined governance of PRINCE2®. The course is designed to help professionals tailor management controls when working in an agile environment, this certification will help you to understand PRINCE2 governance requirements, agile concepts and techniques and the interface between them. Please see our Foundation training course for full syllabus training relating to the exam. Exams are not included with this particular course.
Benefits of method:
Allows you to focus on both management and delivery

Works with any established agile approach
Helps you to be on time and hit deadlines more consistently
A collaboratively-built approach that is corporate friendly
Increased stakeholder confidence
Tools to manage and react to changing requirement
Enhance your CV and boost future employment prospects
Are there any prerequisites to take the course?
Familiarity with projects and Project management is useful but not essential.
Who should take this course?
This course is aimed at individuals aspiring to become project managers and anyone who manages or wishes to manage projects.PRINCE2 Agile is suitable for anyone who delivers projects, large or small, in an agile context. It is a valuable training and certification scheme for anyone working within an agile project environment, whether they're a project manager, project support or part of the wider project team. Including, key delivery team staff such as product owners, Scrum Masters and developers. Business professionals with an interest in iterative and incremental project delivery through collaborative working.This is an accredited course eligible for CPDs/PDUs and is a precursor towards a potential further study/qualification (Foundation/Practitioner) in PRINCE2 Agile® Project Management
What will students achieve or be able to do after taking your course?
Understand key concepts relating to projects and PRINCE2 Agile

Help you appreciate and an aware member of an agile/project environment
Prepare you for a potential qualification in PRINCE2 Agile® Project Management
Eligible for 4 Category - C PDUs or CPDs