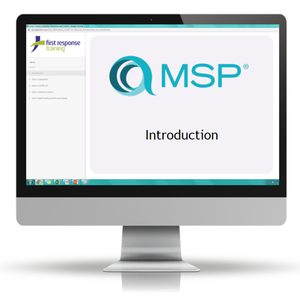 Seat time: 5 hours
About passport:
MSP® Passport is an accredited e-learning product to support computer-based self-study for the MSP® Programme Management methodology. SPOCE's self-study products aim to provide you with a straightforward route to becoming a fully certificated Registered Practitioner in your own time and at your own pace.
Please note that exams are not included with this training course and must be purchased separately. Please see our Foundation training course for full syllabus training relating to the exam.2 modules with associated interactive and video presented lessons, notes to support each lesson and references for further study and reading forums, progress Reports and Email support interactive support materials and exercises to consolidate the learning.
Benefits:
Provides a high-level overview of MSP® Programme Management, why it is used and how the corporate vision and its' benefits can be achieved

Enables team members to appreciate the structure and control ordered by the use of MSP Programme Management
A cost-effective solution for both individuals and organisations
Provides flexibility for those wishing to study at a time, pace and place convenient to them
Online learning gives you the freedom to access from any location.
Inside the modules
What is a Programme?

What is Programme Management?
Why use Programme Management?
The characteristics of Portfolios, Programmes and Projects.
Drivers for change' ;and the programme environment.
Types of Programme and Programme impacts
12 modules with associated interactive and video presented lessons
Introduction to MSP
MSP Terminology

The MSP 'framework'
MSP structure, including Principles, Themes and The Transformational Flow