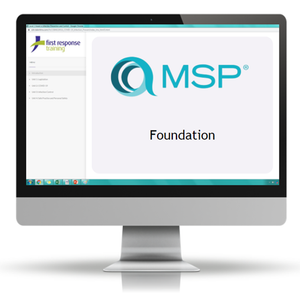 Seat time: 21 hours
About the course:
MSP® - Managing Successful Programmes creates a structured framework for organizations of all sizes and from all sectors to improve practices, offer better services and more effectively prepare for the future. It is a best practice guide that provides and maintains a strategic view over the set of projects, aligning and co-ordinating them within a programme of business change in support of specific business strategies.
MSP® Passport is an accredited eLearning package for MSP® - Managing Successful Programmes. It covers the syllabus and competencies for both Foundation as well as Practitioner level study and qualification. This course however covers the Foundation level. This course aims to provide you with a straight forward route to becoming a fully certificated Registered Practitioner in your own time and at your own pace.
Certification/exam:
This course specifically provides the background knowledge for the related certification exam (which learners must pass in order to achieve the formal Foundation Certification). IMPORTANT: Please note that the certification EXAM IS NOT INCLUDED with this course. The exam can be purchased with the +official exam option.
Course objectives:
Provide Delegates with an understanding of the benefits and principles underlying a structured approach to programme management

Apply the principles of MSP® to a programme within a work environment
Operate effectively with colleagues and managers within a structured programme and project management environment
Enable delegates to understand the MSP® framework to be prepared to sit the APM Group MSP® Foundation and Practitioner exams
Success in the Foundation & Practitioner Exams provides candidates with the pre-requisites required to sit the MSP® Advanced Practitioner exam (separate course)
Designed for:
Any organisation or individual seeing the need for a controlled approach to managing its programmes. The course is suitable for programme managers, experienced project managers, programme support team members and senior managers from any discipline.
Benefits:
Can be used in harmony with other Best Management Practice guidance, such as PRINCE2® and M_o_R®

and any international or internal organizational standards

Highly suitable for business transformation and political/societal change
Accommodates high levels of complexity, ambiguity and risk
MSP Principles can be applied to any change,

whatever level of

its focus, or nature of outcomes

Programmes are always planned and managed with an end in mind
Learning modules:
1) Getting Started - What is a Programme? What is Programme Management? Why use Programme Management? The characteristics of Portfolios, Programmes and Projects. 'Drivers for change' and the programme environment. Types of Programme and Programme impacts.
2) Introduction to MSP® - MSP Terminology. The MSP 'framework'. MSP structure, including Principles, Themes and The Transformational Flow.
3) Organization and Programme Office - The MSP Organisation Structure. MSP Roles and Responsibilities, including Sponsoring Group, Programme Board, Senior Responsible Owner, Programme Manager, Business Change Manager and Business Change Team, and the Programme Office.
4) Vision - What is a vision? What are the characteristics of a good Vision Statement? When and how is the Vision Statement developed and maintained?
5) Leadership and Stakeholder Engagement - What is leadership? What is Business Change Management? What is a stakeholder, and what are the steps in the Stakeholder Engagement cycle, including the techniques and documents involved?
6) Benefits Management - What are benefits and dis-benefits? Alignment with corporate objectives. How and why to categorise benefits. The Benefits Management Cycle, including identifying benefits, planning and delivering benefit realisation, and reviewing benefits.
7) Blueprint Design and Delivery - What is the blueprint and how is it designed? What is P.O.T.I.? How to design blueprint delivery, plan step-changes through tranches, and develop a programme schedule.
8) Planning and Control - Developing the programme plan. Planning and managing resources. Designing the Projects Dossier and developing the programme schedule.
9) The Business Case - What is the Business Case and what does it contain? Where does it begin, how is it developed, and how and when is it reviewed?
10) Risk and Issue Management - Sources and perspectives of risks and issues. Managing risks and the Risk Management Framework. Managing issues and the Issue Management Framework. Change Control and Configuration Management.
11) Quality and Assurance Management - What is quality and assurance? The scope of programme quality management. Assurance management approach, principles and techniques.
12) Transformational Flow - Introduction to The Transformational Flow. What are the processes and activities for Identifying a Programme, Defining a Programme, Managing the Tranches, Delivering the Capability, Realising the Benefits and Closing a Programme
13) Examination Approaches - Introduction to the MSP Foundation and Practitioner Exams. Style of questions and recommended approaches. All modules include:
Interactive Tasks

Visualisation Mind Maps
Foundation & Practitioner Exam Simulations