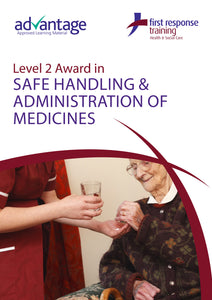 This distance learning manual provides essential information about the principles of the safe handling of medicines, including your role as an employee and the legislation that is in place.
By the end of this course, you will learn about each of the following areas:  
Law and Legislation
Classification of Medicines
Forms of Medicine
Prescribing and Dispensing
Roles and Responsibilities
Checks and Records
Storage of Medicines
Routes of Administration
Medication Administration Records (MAR)
Self-Administration
Side Effects and Adverse Reactions
Professional Care Values
Want your distance learning books to be custom branded? Just email us a copy of your logo and we will create a cover in your own brand colours.
Please allow up to 20 working days for delivery on all orders of more than 5 books.