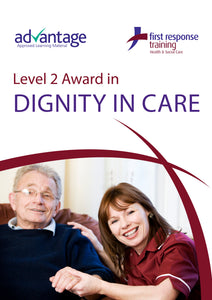 This distance learning manual provides essential information about dignity in care and the principles behind it. This manual contributes to the underpinning knowledge for the Care Certificate, Standard 7 and 8.
By the end of this course, you will:
Understand the definition of dignity
Explain what the eight key components of dignity in care are
Understand how the eight components come together to promote and maintain dignity in care
Understand how to practically apply the eight key components of dignity in care
Want your distance learning books to be custom branded? Just email us a copy of your logo and we will create a cover in your own brand colours.
Please allow up to 20 working days for delivery on all orders of more than 5 books.