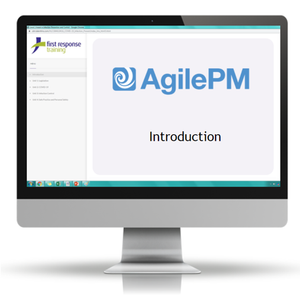 Seat time: 5 hours
About the course:
AgilePM® Passport is accredited by the APM Group to support self-study computer-based e-learning for the AgilePM® Foundation and Practitioner exams.
Certification/exam:
This course supports the background knowledge for the related certification exam (which learners must pass in order to achieve the formal Certification).
IMPORTANT: Please note that the certification EXAM IS NOT INCLUDED with this course. The exam can be purchased separately.
Benefits of method:
Introduction to the Agile way of working

Simple concise communication does not mean 'no documentation'
Provides a high-level overview of the AgilePM® methodology, why it is used and where it fits in to the larger 'corporate' picture
Enables project team members to appreciate the structure of an AgilePM®-managed project and how they fit into that structure
A cost-effective solutiton for both individuals and organisations
Provides flexibility for those wishing to study at anytime, pace and place convenient to them
Online learning gives you the freedom to access from any location
Course content:
2 modules with associated interactive and video presented lessons

Notes to support each lesson and references to further suggested reading
Forums, Progress Reports and Email Support
Interactive support materials and exercises to consolidate the learning Foundation level sample questions to test and embed the learning
Practitioner level sample questions to test comprehension of the subject
Introduction to Agile
Objectives; AgilePM® Source; Concerns and Issues; What is Agile? Agile Approaches; Agile Manifesto
AgilePM® The Basics
The Basics; What is negotiable? Philosophy; The 8 Principles explained; Focus on the Business need; Deliver on Time; Collaborate; Never Compromise Quality; Build Incrementally from Firm Foundations;