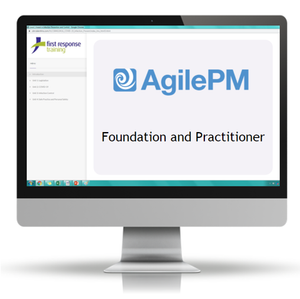 Seat time: 28 hours
About the course:
The AgilePM® guidance, developed in partnership with the Agile Business Consortium (erstwhile DSDM Consortium), offers a practical and repeatable methodology that achieves an ideal balance between the standards, rigour and visibility required for good project management, and the fast pace, change and empowerment provided by agile. The focus of agile project management is on developing solutions incrementally enabling project teams to react effectively to changing requirements, whilst empowering project personnel and encouraging increased collaboration and ownership. This course covers the certification by APMG and the Agile Business Consortium / DSDM Consortium that has been created to sit alongside PRINCE2® as an approach to project management. The course is equally divided between the theory of agile project management and practical experience of techniques and disciplines involved. AgilePM® Passport is an accredited eLearning package eLearning package for AgilePM® Project Management. It covers the syllabus and competencies for both Foundation as well as Practitioner level study and qualification.
Certification/exam:
This course specifically provides the background knowledge for the related certification exam (which learners must pass in order to achieve the formal Certification). IMPORTANT: Please note that the certification EXAM IS NOT INCLUDED with this course. The exam can be purchased separately.
Designed for:
The course is aimed at Project Managers who are adding to their knowledge of traditional approaches such as PRINCE2, or who are operating in an agile environment running more complex and scalable projects.
Course objectives:
To give delegates a practical understanding of Agile Project Management which is based on the internationally recognised framework of DSDM Atern. This will enable delegates to become immediately productive as a project manager in an agile project environment. To highlight the difference between simple lightweight agile approaches which typically operate at the solution delivery (or 'work package') level and the greater holistic view of how multiple work streams are co-ordinated with the appropriate level of governance and control. The course also prepares delegates for the Foundation and Practitioner exams.
Benefits:
Provides flexibility for those wishing to study at a time, pace and place convenient to them

A flexible choice of different self-study options, including a blended-learning package combining self-study with a classroom based revision day
A cost-effective solution for both individuals and organisations
Passport achieves higher pass rates in the Practitioner exam compared to classroom training
Online learning gives you the freedom to access from any location