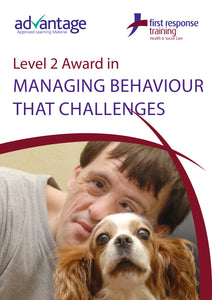 This distance learning manual provides essential information about managing challenging behaviours in a care setting. This manual has links to some of the knowledge required for the Care Certificate, Standard 9.
By the end of this course, you will be able to:
Define challenging behaviour, its causes and forms
Discuss and practice the communication skills required to diffuse challenging behaviour
Recognise when we might be at risk if situations escalate
Describe how to avoid danger and recognise your limits of practice
Want your distance learning books to be custom branded? Just email us a copy of your logo and we will create a cover in your own brand colours.
Please allow up to 20 working days for delivery on all orders of more than 5 books.