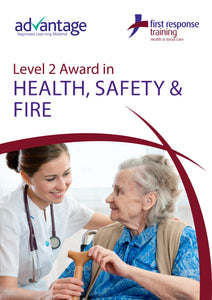 This distance learning manual will provide essential information about health and safety in health and social care and the principles behind it. This manual contributes to the underpinning knowledge for the Care Certificate Standards 3, 13 and 15.
Following completion of this distance learning manual, you will:
Understand the legislation and standards relating to health and safety in health and social care
Understand the importance of maintaining good health and safety procedures and minimising risk
Understand your role and responsibilities in relation to health and safety
Appreciate the costs of poor health and safety standards
Explain the relationship between health, safety and wellbeing
Understand emotional and psychological issues and impacts
Understand the importance of personal safety and measures relating to lone working
Know how to deal with common emergencies including first aid and fire emergencies
Want your distance learning books to be custom branded? Just email us a copy of your logo and we will create a cover in your own brand colours.
Please allow up to 20 working days for delivery on all orders of more than 5 books.