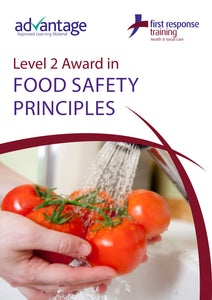 This distance learning manual will provide essential information about food hygiene and safety and how this applies to a health and social care setting. This manual contributes to the underpinning knowledge for the Care Certificate, Standard 8.
By the end of this course, you will:  
Know the key legislation and regulations underpinning UK food safety and hygiene
Understand your legal responsibilities and the key legal roles around food safety
Know the most common types of food poisoning and their causes
Know how to prevent foodborne illnesses
Understand the importance of personal hygiene
Know the essentials of food hygiene
Want your distance learning books to be custom branded? Just email us a copy of your logo and we will create a cover in your own brand colours.
Please allow up to 20 working days for delivery on all orders of more than 5 books.